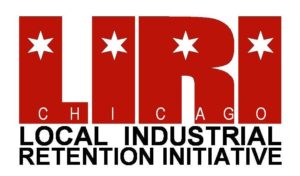 The Peterson Pulaski Business & Industrial Council (PPBIC) is a non-profit organization that assists in the retention and development of companies in five designated industrial corridors on the Northwest Side of Chicago.
With the support of our members and Chicago's Local Industrial Retention Initiative program, we provide a variety of services, including facilitating city services, marketing and assisting with public incentives, providing educational and networking opportunities, promoting the area and local business, and planning and advocating for the long-term vitality of the industrial corridors.
PPBIC is a member of the Northwest Side Business Collective, a team of economic development organizations helping companies meet the challenges of the new normal of life with Covid-19.
In the new normal, Covid-19 is preventable for those 6 months and older, treatable, and controllable.  But also, individuals, businesses, schools, and communities are shouldering increasing responsibility for controlling Covid-19 since Public Health guidance has replaced mandates with recommendations.
As our area businesses continue to adapt and meet the ever-changing challenges of Covid-19, especially regarding the safety of their workforce and workplace, PPBIC will be there to help through vaccination/booster events and sharing of critical Covid-related updates, protocols, and grant opportunities.

Your PPBIC Membership is More Important than Ever!  The success of PPBIC's mission and the value of membership multiplies with each business that joins, whether an industrial or commercial business or a service agency.  Each unique voice lends PPBIC a clearer understanding of the challenges faced by the business community so we can better assist and advocate on its behalf.  Join Today HERE.
PPBIC is your first stop when you need anything from the City including zoning guidance, help with licensing or advice to navigate inspections.  We partner with aldermen dedicated to maintaining the corridors in their wards and assisting businesses working their way through the City's legal and regulatory hurdles.
Chicago Manufacturing.  For more than 100 years, Chicago has been one of the world's premier manufacturing and job centers.  From meatpacking and steelmaking to industrial incubators and advanced manufacturers, the industrial sector continues to thrive and provide high-wage jobs that sustain Chicago families.  PPBIC is committed to continuing that legacy and improving the growth of Chicago industrial companies. 
Local Industrial Retention Initiative (LIRI).  We are one of ten LIRI organizations located throughout Chicago with the mission of retaining and attracting industrial businesses.  We work closely with the businesses to identify their needs and help access City programs, services and funding.  We also provide the City with key insights to help plan infrastructure and other investments in the five industrial corridors we serve. 
Not Just Peterson-Pulaski.  Established in 1991 to assist Peterson-Pulaski Industrial Corridor businesses, recently the PPBIC service area expanded to include four more industrial corridors: Elston-Armstrong, Knox, Northwest Highway, and Read-Dunning (Wright Business Park).


Insperity, a trusted advisor to America's best businesses for more than 32 years, provides an array of human resources and business solutions designed to help improve business performance.  Insperity®Business Performance Advisors offer the most comprehensive suite of products and services available in the marketplace. Insperity delivers administrative relief, better benefits, reduced liabilities and a systematic way to improve productivity through its premier Workforce Optimization®solution. Additional company offerings include Human Capital Management, Payroll Services, Time and Attendance, Performance Management, Organizational Planning, Recruiting Services, Employment Screening, Expense Management, Retirement Services and Insurance Services.  Insperity business performance solutions support more than 100,000 businesses with over 2 million employees. With 2017 revenues of $3.3 billion, Insperity operates in 70 offices throughout the United States.
Insperity CEO Paul Sarvadi:  
For more information, visit www.insperity.com/daniel.carini

THE SMARTEST ROUTE FOR DANGEROUS GOODS SHIPPING IS LABELMASTER.
For more than five decades, Labelmaster has been the go-to source for companies – big and small – to navigate and comply with the complex, ever-changing regulations that govern dangerous goods and hazardous materials.   In the ever-shifting world of dangerous goods shipping, Labelmaster keeps your business ahead of regulations and compliant every step of the way.  Whether you're shipping hazardous materials by land, air or sea, we provide always up-to-date expertise to ensure every shipment runs smoothly.
With the most comprehensive assortment of software, products, and services available, every box is checked and nothing is left to chance. From hazmat labels and UN certified packaging to regulatory training, Labelmaster keeps you cool, and compliant, every day.
You Make It...We Make It Easier!