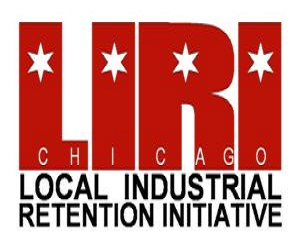 PPBIC is a non-profit organization that assists in the retention and development of companies in five designated industrial corridors on the Northwest Side of Chicago.
With the support of our members and Chicago's Local Industrial Retention Initiative program, we provide a variety of services, including facilitating city services, marketing and assisting with public incentives, providing educational and networking opportunities, promoting the area and local business, and planning and advocating for the long-term vitality of the industrial corridors.

Your Membership is More Important than Ever!  The success of PPBIC's mission and the value of membership multiplies with each business that joins, whether an industrial or commercial business or a service agency.  Each unique voice lends PPBIC a clearer understanding of the challenges faced by the business community so we can better assist and advocate on its behalf.  Join Today HERE.
PPBIC is your first stop when you need anything from the City including zoning guidance, help with licensing or advice to navigate inspections.  We partner with aldermen dedicated to maintaining the corridors in their wards and assisting businesses working their way through the City's legal and regulatory hurdles.
Chicago Manufacturing.  For more than 100 years, Chicago has been one of the world's premier manufacturing and job centers.  From meatpacking and steelmaking to industrial incubators and advanced manufacturers, the industrial sector continues to thrive and provide high-wage jobs that sustain Chicago families.  PPBIC is committed to continuing that legacy and improving the growth of Chicago industrial companies. 
Local Industrial Retention Initiative (LIRI).  We are one of ten LIRI organizations located throughout Chicago with the mission of retaining and attracting industrial businesses.  We work closely with the businesses to identify their needs and help access City programs, services and funding.  We also provide the City with key insights to help plan infrastructure and other investments in the five industrial corridors we serve. 
Not Just Peterson-Pulaski.  Established in 1991 to assist Peterson-Pulaski Industrial Corridor businesses, recently the PPBIC service area expanded to include four more industrial corridors: Elston-Armstrong, Knox, Northwest Highway, and Read-Dunning (Wright Business Park).
Join us to celebrate PPBIC's 32 years of helping businesses on Chicago's NW Side.  Mix and mingle with friends and colleagues while enjoying delicious food and raising a glass.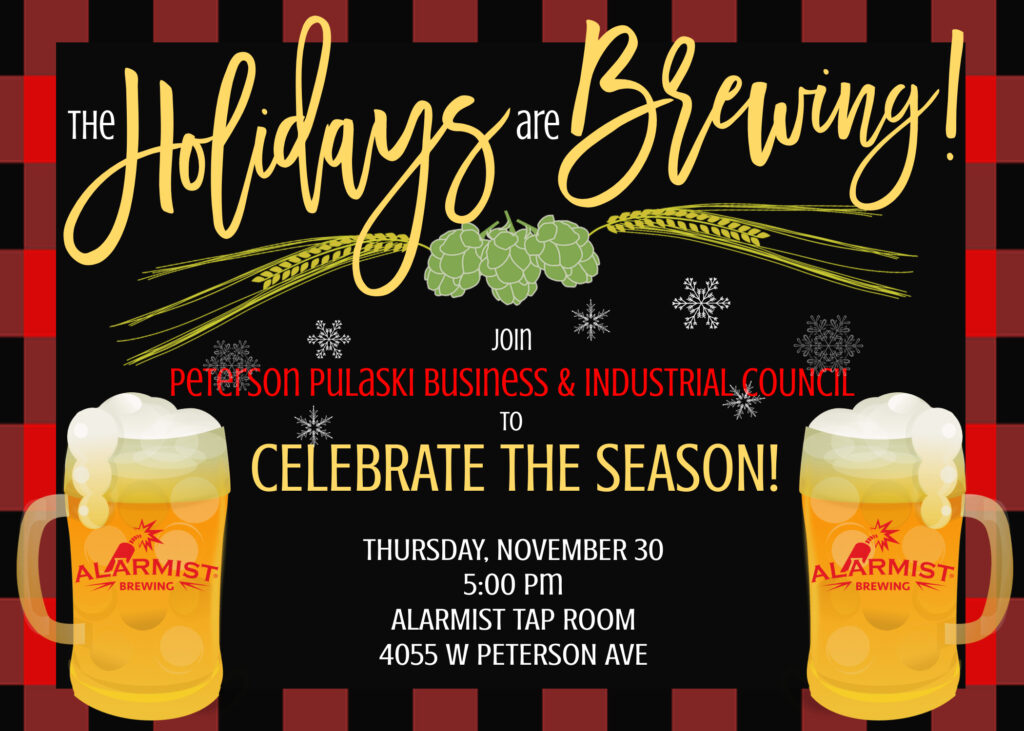 PPBIC to Partner with the Illinois Manufacturing Excellence Center in Providing Resources for Area Manufacturers
The Peterson Pulaski Business and Industrial Council is partnering with the Illinois Manufacturing Excellence Center (IMEC) to provide a new array of resources, grants, and opportunities for manufacturers in the area covered by Peterson Pulaski. These areas include Elston-Armstrong, Knox, Northwest Highway, Peterson-Pulaski, and Wright Business Park.
Manufacturers can take advantage of this initiative for free through 1-on-1 meetings with the Peterson Pulaski Business and Industrial Council & IMEC staff. These meetings can be customized to your needs. Topics could include leadership, strategy, customer engagement, operations, workforce, and measurement and results.
Over the next six months, Peterson Pulaski will reach out to manufacturers in their service area with more information about this new pilot program.
For more information, contact Janita at 773-860-3929 or jtucker@ppbic.org.
About IMEC.  IMEC is a team of improvement specialists who are dedicated to changing lives and creating a positive impact on Illinois' workforce and economy. With a mission to drive growth through enterprise excellence, they help organizations become more effective and efficient by identifying issues, developing and implementing solutions, and providing the necessary support that will allow them to excel in areas of leadership, strategy, customer engagement, operations, workforce, and measurement and results. In 2021, they assisted over 1,600 companies and help create or retain over 5,679 jobs, resulting in over $450M aggregate impact to the Illinois economy.  IMEC has seven offices statewide and 48 full-time industry improvement specialists. For more information, visit www.imec.org.


Walter A. Lisowski founded Mid-West Screw Products Inc. in 1946 he realized that to excel in this competitive industry his customers must always receive uncompromised perfection in all their machined parts. He also offered assistance and creative ideas to help his valued Customer reduce costs.
So the story continues. The second generation, Walter E. and Kenneth have experienced continued growth as they have expanded and replaced their equipment to the latest industry standards. Zero-defect manufacturing, Statistical Process Control (SPC), as well as TQM, and the newest Just-in-Time (JIT) manufacturing techniques and software, as well as becoming ISO Qualified hopefully make Mid-West Products your supplier of choice. Our primary goal then and now, continues to be total customer service and satisfaction. Continuing to input ideas that can result in cost savings.
We strive to become a working partner in machining quality components for our customers' changing needs in this global economy. We encourage employee participation in attaining continuous improvements in machining and services to achieve total customer satisfaction.  How we accomplish our vision is as important as the vision itself. Fundamental to success for the company are these basic values:
Respect for our people who are a critical resource and a source of strength in providing creative ways to achieve total customer satisfaction.
Quality of our goods and services as measured by how well we satisfy our customers' expectations of value.
Continuous improvement of our machining and services to remain competitive and provide jobs while providing a reasonable return to the company.
Our machining capabilities which reflect our ability to excel beyond the normal range of complexity through a creative combination of experienced people and versatile equipment.

A passion for mechanics and motor racing launched Orion Industries from humble basement beginnings to a leading force in the functional coating industry. In 1963, founder Bruce Nesbitt began researching a coating from Alpha Molykote to further his motor racing hobby. The coating was made of molybdenum disulfide for automotive engine and drivetrain parts. The simple research project stimulated a profound interest in functional coatings and their applications, which Bruce used to incorporate Orion in 1964, and grow it from a dream with one employee to the most technically advanced functional coating application company in the industry.
Orion's unique origins and stable growth process encourage a dedication to strategic, long-term relationships with customers. As part of the relationship building process, each new customer is introduced to the Solutioneering® philosophy of succeeding, which matches technical requirements of a job with the best coating candidate and optimized application. The process of working with customers as individuals to truly deliver the best coating application service in the industry has resulted in Orion earning the privilege and responsibility of being the single source supplier for more than 95% of its customers.
Our Dedication.  As a leader in Teflon®, Halar®, Xylan®, FluoroPlate®, and other functional coatings, Orion Industries is dedicated to enhancing the performance capabilities of our customers' products. Issues such as friction, sticking, corrosion, noise, abrasion, and FDA compliance, are easily resolved with Orion's expert engineers and innovative coating technologies. Our coating processes can increase the value and life of the finished products and components in a variety of industries, by creating improved, functional surfaces that eliminate problems.
Our Credibility.  Orion has been serving the needs of engineers and manufacturers for nearly 60 years. Our team will work closely with you to select coating materials and application methods to meet your specific needs. We'll never send you products below your standards or expectations and proudly maintain a high-quality and repeatable process. Our ability to create specialized processes reinforces our engineering approach to precision coating application. Our unique standards demand that products are verified to measure coating consistency down to the micron. Orion is AS9100 certified and ISO 9001 certified and serves as the sole coating application source for many OEM's.
Our Story.  Customers have always turned to Orion Industries when they have outgrown dealing with rejected parts, poor delivery, or volume capacity. Innovative applications with precise measuring and high quality are what we deliver: every product, every time.
For nearly 60 years we have supplied performance coatings that set the highest standards of the industry to our loyal customer base. At Orion, quality is everyone's responsibility. We believe that the smartest person in the room is three feet from the job. This means that anywhere during the process, anyone can stop the line and ensure that the part or project is thus far correctly coated. We strive for first-pass efficiency.
Our robotic and precise processes increase accuracy, which allows us to control coating thickness down to ±3 microns. Our knowledge of coatings and high level of quality certification make us the company you can trust. We have access to the world's most qualified fluoropolymer coating manufacturer and apply their coatings to their approved quality standards. We deliver the job done right the first time.
Where We Are.  Orion Industries is headquartered in Chicago, IL with our main production facility conveniently located near expressways, trains, and major interstate routes. We process and ship product throughout the US, Canada, Mexico, and other countries around the world.
You Make It...We Make It Easier!